Rejected contracts and a Hollywood movie
As the row over vaccine supplies heated up this week, the UK government stuck to a simple line.
Ministers and officials repeatedly said they do not want conflict over vaccines. Yet, at the same time, they stated their confidence that they would get the doses they needed.
"We're very confident in our supplies, we're very confident in our contracts and we're going ahead on that basis," the prime minister declared on Wednesday. Behind the scenes, the message is the same. As far as it is possible to tell, the confidence is real.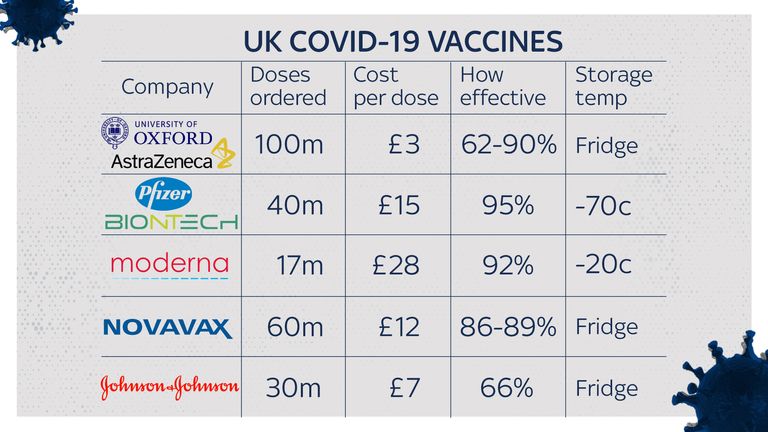 Its source is the UK's largest vaccine order: its agreement with AstraZeneca for 100 million doses of the vaccine developed at Oxford.
Ministers believe this arrangement will keep the supply of vaccines flowing to the UK, even in the unwanted event of a vaccine trade war.
Partly, this is a matter of technology. Unlike the Pfizer vaccine, which is largely manufactured in Europe using specialised technology that would be almost impossible to replicate elsewhere, the process used to make the AstraZeneca vaccine is – in vaccine terms – relatively flexible.
"The Oxford AstraZeneca vaccine is based on a more established technology, meaning that there are a wide range of suppliers for all the materials and consumables that go into this vaccine," said Dr Zoltan Kis of Imperial College London's Future Manufacturing Hub, which is investigating how to produce large amounts of vaccines very quickly.
"That means the company is not restricted to one specific supplier. In case they have to not use those [European] suppliers, they would have the option of switching to a supplier outside of the EU."
Please use Chrome browser for a more accessible video player
Almost four in five over-80s have got COVID jab

Switching suppliers would almost certainly lead to delays as new arrangements were made and certified. (Regulatory checks to bring a vaccine manufacturing facility online can take weeks, if not months) But in a worst case scenario, it would at least be possible.
However, the real source of the government's confidence is its contract with AstraZeneca, which ministers believe commits the pharmaceutical company to delivering UK doses first – a fact confirmed by AstraZeneca boss Pascal Soriot in an interview with Italian newspaper La Repubblica.
Whether that guarantee will hold up under a challenge remains to be seen. Yet, according to a former Department for Health and Social Care (DHSC) adviser, the UK nearly missed out on this degree of security.
That is because the Oxford-AstraZeneca vaccine was very nearly the Oxford-Merck vaccine – and under the terms of the agreement with the American pharmaceutical giant, there were no guarantees of supply.
The episode played out against the backdrop of the first phase of the pandemic. During March and April 2020, the University of Oxford negotiated a deal which would allow Merck to manufacture and distribute the vaccine it was in the process of developing.
The arrangement made sense. Unlike British-Swedish AstraZeneca, Merck had experience in making vaccines. Its senior executives had links to Oxford scientist and government adviser Sir John Bell.
Yet when the contract reached Matt Hancock's desk, the former adviser said, the health secretary refused to approve it, because it didn't include provisions